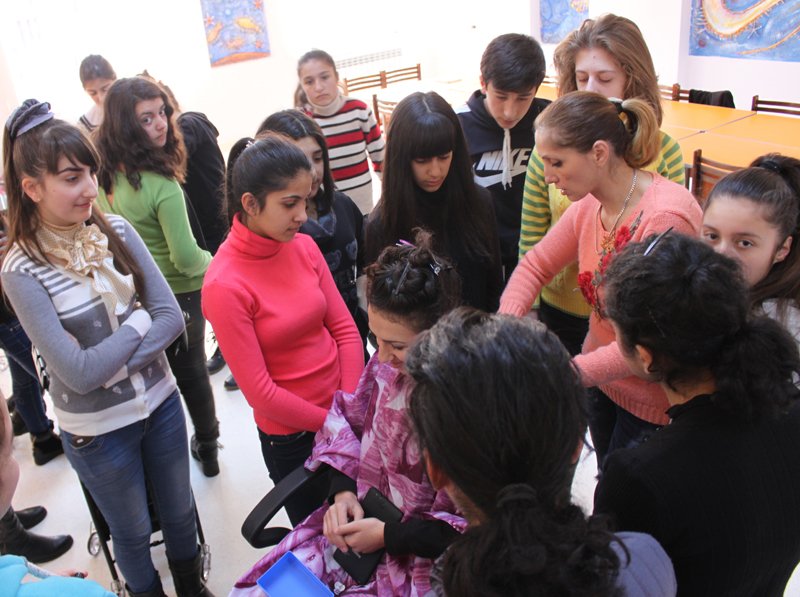 The program is for teenagers aged 8-18 years old    
Training course duration -1 year  
Number of learners in the group – 8-13 pupils 
Training course form - group and individual   
Duration of the course - a lesson lasts 135 minutes, 2 classes per week       
Learning process is carried out by combining both theory and practice. The classroom is light and is appropriate for working process.
 There are all the necessary conditions for the organization of the learning process in the classroom; hairdressing chairs, sinks, mirrors, scissors, different types of combs, hairdryers etc. 
Hairdressing group pupils have an opportunity to obtain prior knowledge about hairdressing art, which later on will be turned into practical skills and abilities. Pupils are getting acquainted with hairdressing tools, their usage technique and how to prepare and use the working aids properly. They are taught the techniques and secrets of doing different hairstyles and cuts as well as hair dyeing and simulation. 
The knowledge obtained by the pupils is tested via questionnaires and practical works.  
Training course results
•
Sowing interest towards hairdressing art.  
•
Development of imagination, the skills and abilities of their own creativeness. 
•
Doing different types of haircuts /both for men and women/, hairstyles for different length hair and dyeing by using modern working methods.