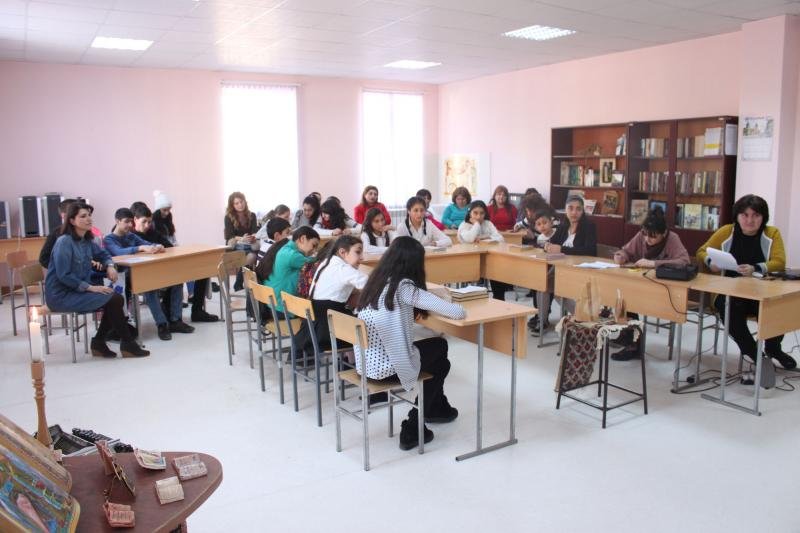 February 19 is the birthday of prominent poet Hovhannes Tumanyan. This day is celebrated in Armenia as the day of «Presenting a book» in his honor. 
Book-gathering and round-table discussion were organized in "Endanik" Youth Creative Center which gave start the series of events entitled "The Master of Magic Pen" dedicated to the 150th anniversary of the poet.      
The event was purposefully and was aimed at reassessing the poet's past, introducing his literary and cultural heritage to the new generation, and passing Tumanyans spirit and breath to the youth.
The pivot of the day was a beautiful book presenting ceremony that united the students of the center to reassert the fact that many of us got acquainted with the book and loved it with Toumanian's fairy tales, children poems, immortal quartets, poems ...  
During the event, Hovhannes Tumanyan's special attitude, care, zealous attitude and love towards the books was review and were displayed. 
The roundtable participants discussed and found out which of Tumanyan's work is preferable for them and why. They were given a unique opportunity to congratulate and send wishes to their beloved poet. 
One of the pupils of the center wrote: "My beloved poet of all my ages, happy birthday to you. We welcome your bright entrance to Armenian literature. How many generations you have educated, and will continue to do so! Indeed, your work is immortal. How insignificant our inner world and imagination would have been if were not you and your heritage ... " 
At the end of the event, the students appealed everyone and especially their peers to be consistent and to appreciate the power that is called the knowledge and the book.