The program is assigned for the teenager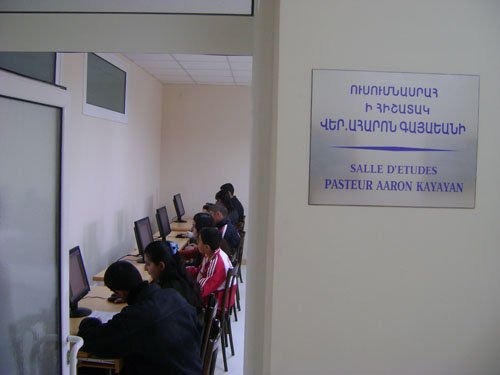 The duration of the learning is 3 years.
There must be from 8 to 15 pupils in the group.
The form of learning may be in group or individually.
The duration of studies is 45 minutes for 1 lesson, from 6 to 8 classes weekly.
The learning process is realized through the combination of theoretical and practical classes.
The interactive classroom is provided with local and wide - area networks, with modern necessary techniques, such as computers and computer equipment, e-blackboards, projector, scanner, printer.
During the learning process the pupils of the computer learning group learn to work with different computer programs, to digitalize different types of information: to do the editing of textual works with textual editor, to make documents of different type and format / applications, letters, memorandums, orders, declarations, recommendations, contracts, bulletins/, to work with graphical images, to do calculations of different complexity in e-editor, to make graphics, diagrams with mathematic functions, to make business slide shows with the help of PowerPoint, to set animation parameters, to make the refinement of pictures and images with graphic editors, to make newsletters, pasteboards, advertising posters, to create graphic contextures, to exercise various works, to do various works with images with the help of point editor, to edit images.
The gained knowledge and skills of the pupils are shown during the open lessons and events.
The result of the learning:
•
The obtaining of the  abilities of working with different computer programs.
•
The obtaining of the abilities and skills of forming, decorating, editing of different types of documents.
•
The development of abilities and skills of self thinking.
•
The obtaining of the right choice of profession.
•
The appropriate and effective organization of the everyday life.