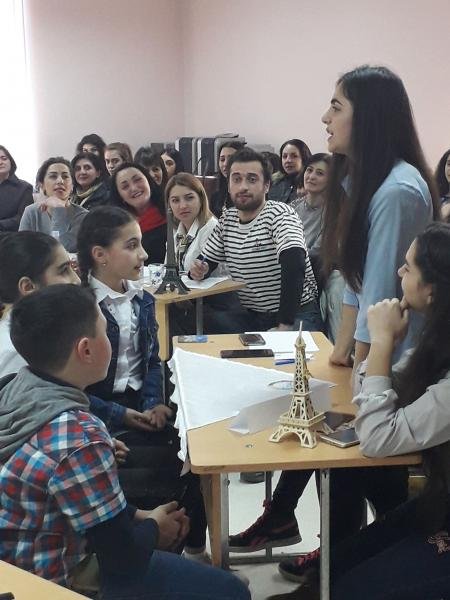 On March 18, an intellectual competition entitled "Torrent of Questions" dedicated to Francophonie was held in "Endanik" Youth Creative Center. The teams from "Endanik" center, Shirak State University, Gyumri primary school N10 and the College of Economics participated in the competition. 
The jury consisted of French lecturers Gayane Galstyan and Gayane Harutyunyan, the representative of "KASA" Swiss Humanitarian Foundation- Anna Unupoghlyan and the volunteer of "Birthright Armenia" Nshan Balyan.    
The aim of the event was to deepen the knowledge of teenagers about French culture, to promote Francophonie, to discover and develop intellectual abilities of the youth. 
Teams were very active full of great enthusiasm and a wish to win. The game was hot and the struggle was stubborn.     
At the end of the game the jury members summed up the results. The prizes were distributed as follows: 1st place was taken by "Endanik" center's "Brotherhood" team, 2nd place – the team "Zevs" of Gyumri primary school N10, 3rd place - "Astghiks" team of Shirak State University. The winning teams were awarded with diplomas. And the team "Francophones" of the College of Economics received an encouraging certificate.   
Gayane Harutyunyan, a lecturer of Shirak State University expressed gratitude for such an initiative and noted that mastering French is also very important at the moment parallel to English. Anna Unupoglian, the representative of KASA Swiss Humanitarian Foundation, mentioned the importance of cooperation with Francophone organizations. She mentioned that the event has not only given the opportunity to deepen knowledge, but also contributed the spreading and development of Francophonie.