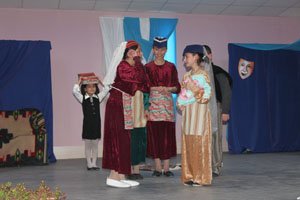 To the international day of the theatre was devoted the event "Life is a theatre..."held in "Endanik" Youth Creative center. It united many playgoers, arts and culture figures. 
The children of the center decorated the stage harmoniously according to the fest. Each of the curtains had its unique salvations of the colors, the laughing and crying masks on them presented one symbolic picture where was reflected the combination of  a real life and theatre. 
 The theatrical art group children's performance, full of free and unconstrained scenic play depicted the scenes taken from the real life, made the audience to laugh frankly and brought activeness into the hall.  
Then the theatrical group's children presented the history of the Armenian theatre since ancient times. 
During the event a slide show was presented about the prominent figures of theatre and interesting stories from their lives were told.         
The director of "Endanik" center Arthur Minasyan expressed his contentment to the young "actors", congratulated the devotees of the theatre on the occasion of theatre's international day. He wished them a productive creative work and new achievements. 
The day was full of happy scene atmosphere. The presents took with them nice and vivid impressions from the event entitled "Life is a Theater, and we are Actors in it".