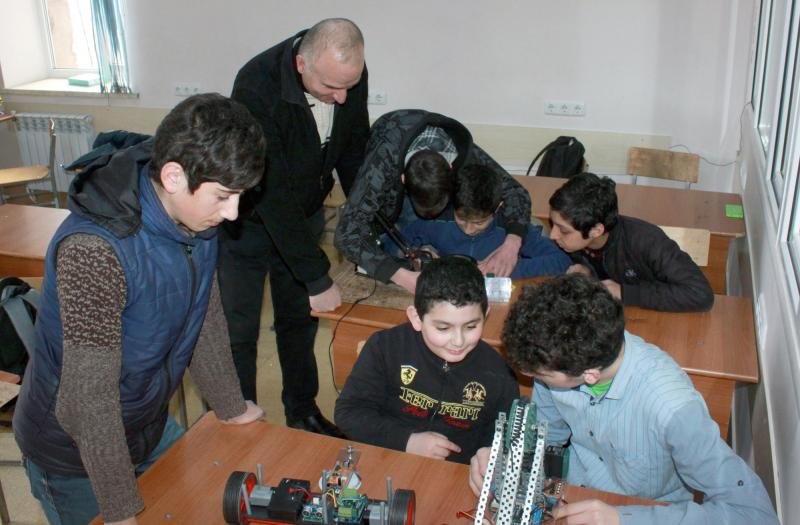 On April 6, the American University of Armenia hosted the final stage of the Junior Contest of Applied Programming Digi Code 2019, in which participated the pupils of "Endnaik" center's radio electronic group - Gor Gevorgyan and Sahak Sahakyan with their projects "Geometric Images" and "Sahak's bot" correspondingly.      
Only 65 teenagers have passed to the final stage out of 300 participants from different regions of Armenia, Artsakh and Javakhk.  
The main goal of the contest was to encourage and develop schoolchildren's algorithmic thinking, to turn schoolchildren from game consumers to game makers, to identify gifted teenagers and enable them to develop their creative abilities.
By working with K-turtle, Scratch and Python the participants presented their games and projects to the professional jury and competed in ''Best design'', "Best algorithm solution", "Best interactive animation" "Best interactive animation and device integration", "Best game" nominations. 
In "Best device integration" nomination "Endanik" Center's student Sahak Sahakyan took the first place and received a certificate and a prize, and Gor Gevorgyan took the 2nd place in "Best algorithm Solution" nomination. 
Sahak's project was highly appreciated by the jury members who suggested to develop the project and submit it to the International Congress of Information Technologies to be held in Armenia in 2019.  
Let's add also that Sahak Sahakyan was recognized the best in "Armath Prize" nomination for the game he created and was awarded by the certificate and a prize.