The program s assigned for the teenagers of 6 to 18 ages.
The duration of the learning is from 3 to 4 years.
There must be from 7 to 15 pupils in the group.
The form of learning may be in group or individually.
The duration of studies is 45 minutes for 1 lesson, from 6 to 8 classes weekly.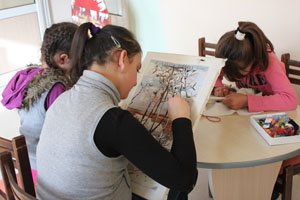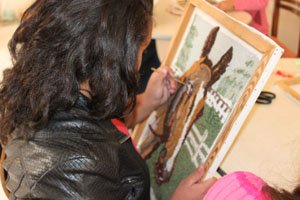 The learning process is realized through the combination of theoretical and practical classes.
There are favorable conditions for the organization of the learning process in the classroom, the workshop is equipped with necessary tools and supplies.
The pupils of the gobelin weaving group learn to prepare the workplace, to use the working tools correctly, to choose ornaments and decorating traceries, to draw sketches, to reproduce the sketches on the cloth, to correct the shortcomings, to do the final processing keeping the rules of security.
The pupils get acquainted with works of famous Armenian and foreign masters, with national historic-cultural basics, with the history of the gobelins, with peculiarities of the Armenian and French gobelins during the learning process.
 The result of the learning:
•
The ability of sketch processing and of using it correctly.
•
The obtaining of the abilities of making gobelins with different ornaments, such as holders, tablecloths.
•
The obtaining of the capacities of finding and correcting the shortcomings of the work.
•
The appropriate and effective organization of the everyday life.