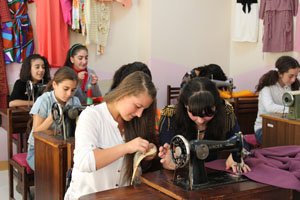 The program is assigned for the teenagers of 10 to 18 ages.
The duration of the learning is 2 years.
There must be from 8 to 12 pupils in the group.
The form of learning may be in group or individually.
The duration of studies is 45 minutes for 1 lesson, from 6 to 8 classes weekly.
The learning process is realized through the combination of theoretical and practical classes.
There are all the necessary conditions for the organization of the learning process in the classroom; sewing and embroidery machines, mannequins, teaching materials and other necessary items.
The pupils of the group of cloth modeling learn to fit measurements, to register them, to make the necessary calculation for designing the cloth, to draw sketches, to do changes in drawings and to get a template. 
The pupils learn to choose materials for the corresponding cloth, to estimate their quality and properties, to make the snipping of the cloth, to sew complete clothes, to correct the shortcomings of the sewed cloth, to make the finishing operations of the cloth, to keep the rules of security.
The pupils regularly show clothes sewed and modeled by them, they sew clothes for the other groups and events of the center.
The result of the learning:
•
The sewing, repairing and modification of the cloths for the women, men and kids.
•
The cancellation of the asymmetries of different kinds.
•
The obtaining of the abilities of cloth snipping and sewing.
•
The obtaining of the right choice of profession.
•
The appropriate and effective organization of the everyday life.